Keynote Speakers
Professor Jong-Hwan Kim
Evolvable Genetic Robot in a Ubiquitous World
Abstract
In a ubiquitous era we will be living in a world where all objects such as electronic appliances are networked to each other and a robot will provide us with various services by any device through any network, at any place anytime in a ubiquitous space. This robot is defined as a ubiquitous robot, Ubibot, which incorporates three forms of robots: software robot (Sobot), embedded robot (Embot) and mobile robot (Mobot). The Ubibot can be developed either as a software or hardware robot in the ubiquitous space, which will provide us with seamless, calm, and context-aware services. The first part of this talk is to introduce a new concept of Ubibot and its recent progress and development for our future ubiquitous world.
This talk will show its possibility of implementation in real life through demonstrations using a Sobot, Rity, developed at the Robot Intelligence Technology (RIT) Laboratory, KAIST: i) Continuous interface between physical and virtual worlds, ii) Seamless transmission of Sobot between a PC and a Mobot or among mobile phones, and iii) integration of Sobot, Embot and Mobot. Rity is implemented as a 12 DOF artificial creature in the virtual 3D world created in a PC. It has virtual sensors to survive in the virtual world and physical sensors attached to the PC to interact with the real world. Based on sensor information it can express its emotion, and interact with human beings through a web camera in the real world. It can generate behaviors autonomously and has its own IP.
The second part is to deal with "the essence" of robot as an artificial creature. For this purpose, genetic robot, first coined by Jong-Hwan Kim, will be introduced to investigate "The Origin of Artificial Species." This talk will present a way on how to build a genome, consisting of artificial chromosomes, for genetic robots that would be capable of human-style evolution. The programmed genetic code is modeled on human DNA, though equivalent to a single strand of genetic code rather than the complex double helix of a real chromosome. Though the main functions of the genetic code are reproduction and evolution, it can be used for representing the personality of the genetics robot and also for transmission to the other device.
In the ubiquitous era, our future world will be composed of millions of u-spaces, each of which will be closely connected through ubiquitous networks. In this u-space we can expect that Ubibot will help us whenever we click it, as Genie of the Magic Lamp did for Aladdin. It is also envisioned that in that era, a robot's genome and its hardware will exist as two separate entities. The genome provides the ideal platform for storing a robot's personality in a virtual environment from where it can be implanted on a real robot or wirelessly (or wired) to imbue it with life when desired.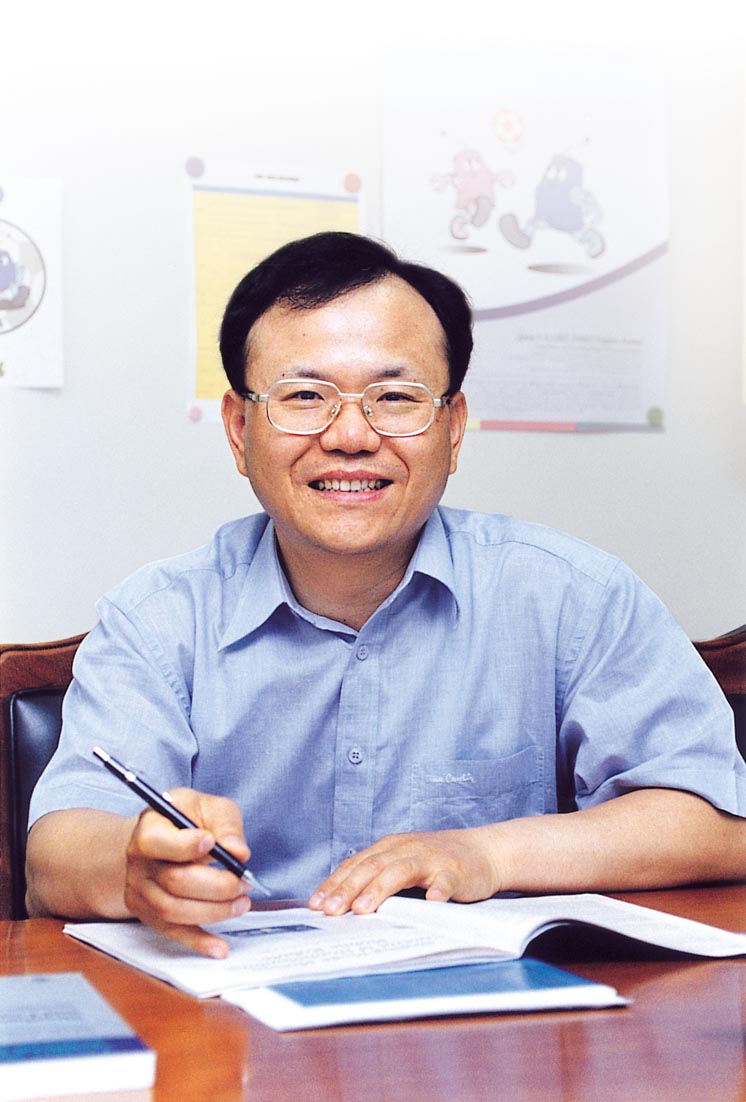 Biography
1988 - Professor, Department of Electrical Engineering and Computer Science, Korea Advanced Institute of Science and Technology (KAIST)
2004 - Chairman, Robotics Program, KAIST
2003 - Adjunct Professor, School of IT, Griffith University, Gold Coast, Australia
2005 - Honorary Professor, De La Salle University, Manila, Philippines

Professor Kim has held a number of positions in this field, including:-
President, Federation of International Robot-soccer Association (FIRA; www.FIRA.net)
President, International Robot Olympiad Committee (IROC; www.IROC.org)

He is directing two robot research and education centers:-
2000 - Director, Micro Robot Design Education Center (MRDEC) supported by the Ministry of Commerce, Industry and Energy, the Republic of Korea
2003 - Director, ITRC-IRRC (Intelligent Robot Research Center) supported by the Ministry of information and Communication, the Republic of Korea

Prof. Kim is well recognized for his contribution in the area of Robotics and has been introduced as:-
1997 'The Father of Robot Fooball' in The Times
1997 The Founder of Entertainment Robotics, The Anchorage Daily News
1999 One of the in Barons Who's Who, in the USA

Prof. Kim has authored over 200 publications including:-
- Six books including "Soccer Robotics" (Springer-Verlag, June 2004);
- Two Edited books on Simulated Evolution and Learning, (Springer, 1997, 1999);
- Two International Journal Special Issues on Robot Soccer;
- Over 50 papers in prestigious international journals, and
- Other conference papers.